The depth of the Eastern Conference is laughable compared to that of the West with a huge drop off to the bottom feeders of the league. Alas, here's the next installment of my NBA outlook: the Eastern lottery teams--many of whom will be involved in some ugly games this season.
(Here's a look back to
last year's edition
)
We won't see this premiere matchup in the playoffs.
9. Milwaukee Bucks
Can this duo stay healthy?
If any of the likely playoff teams slip up, this is the squad capable of capitalizing on the opportunity. Coach Scott Skiles always keeps his teams competitive with strict defenses, but this team had serious problems scoring last season. In order to rectify this, the team moved down in the draft in order to shed John Salmons and Corey Maggette while adding Stephen Jackson, Beno Udrih, Shaun Livingston and still selecting a nice forward in Tobias Harris. Those additions will help spark the offense, but having healthy seasons from center Andrew Bogut and point guard Brandon Jennings is the key. Although Bogut will always be more of a defensive player, he is much better offensive than he showed last year while still limited by his gruesome arm injury. Jennings needs to limit the volume of his shooting in order to be more efficient and get his teammates more involved, and hopefully he can share the ball effectively with Jackson and Udrih. Mike Dunleavy was a nice value signing to add more shooting as well, and he can split time with defensive stalwarts Carlos Delfino and Luc Mbah a Moute. I love Mbah a Moute's defensive versatility, but he needs to contribute
something
offensively to really help this team. You also have to wonder if second year big man Larry Sanders can make an impact in a larger role this season as well. If all these pieces fit in well together and lead to a postseason berth, this team could be a tough out once there.
10. New Jersey Nets
Lopez's injury hurts in a lot of ways.
This is more of a pick by default as things get ugly quick at the bottom of the East. If Brook Lopez hadn't broken his foot right before the season started, then this team might have been decent, but now they are going to be tough to watch. They're kind of stuck in limbo before their move to Brooklyn and with their pursuit of Dwight Howard, which is hampered by Lopez's injury. Deron Williams' impending free agency clouds things further, but for now, he doesn't have a lot around him to win games. I am a huge fan of sharpshooter Anthony Morrow since his first start with the Warriors, but he is a defensive liability on the wing. Rookie Marshon Brooks can also light it up, but there's a reason he lasted to the late first round with questions about his defense and shot selection. As a tweener forward, Damion James is active but has a lot of limitations on both ends. Big man Kris Humphries will hustle for rebounds and finish inside, but he is average at best on defense and can be selfish at times on offense. The cheap trade for Mehmet Okur was a decent move after Lopez's injury, but he probably doesn't have much left to really help. There just aren't a lot of talented players on this roster.
11. Detroit Pistons
I really don't like how this team is assembled. So much of the talent overlaps that I don't see how the pieces fit. Both Tayshaun Prince and Jonas Jerebko were surprisingly re-signed even though Austin Daye and Charlie Villanueva have similar games at forward, as well. Brandon Knight was a steal at #8 in the draft, but Rodney Stuckey was re-signed and Ben Gordon is also another combo guard on the roster. Now, none of these deals are
that
extravagant that they can't be moved in the future, but this sets up the roster with obvious weaknesses. Thus, second year big man Greg Monroe is probably the most irreplaceable player. He's a stud on offense whom I loved in the draft, and he proved to be a capable scorer, rebounder, and passer as a rookie. His limited athleticism does result in a lot of his shots being blocked, however, and he is slow footed on defense. Overall, this team almost has to improve by default because they basically mutinied against their former coach and Lawrence Frank is a definite improvement, but I just don't like the makeup of the roster.
12. Washington Wizards
To buy a Wall jersey now or wait for an All-Star version? Hmm.
I'm as big a John Wall fan as you'll find, but he won't be making the playoffs anytime soon. This team has stockpiled young talent with some cap flexibility, but a lot of these players don't really know how to play and be professionals. Nick Young and Andray Blatche have never matured beyond being one dimensional players: selfish scorers. Second year guard Jordan Crawford, who was stolen from Atlanta after a series of strong trades, is like a shorter version of Young, but there is hope he could grow be more than a simple replacement. JaVale McGee gets the highlight blocks and dunks, but his basketball IQ is severely lacking. He lacks defensive fundamentals, and he doesn't really have much skill on offense other than running the floor with Wall. Rookie Jan Vesely is also more of an energy forward who will benefit from Wall's tremendous speed constantly pushing the ball in transition. Fellow rookie forward Chris Singleton is a tremendous defender at multiple positions, and second year big men Kevin Seraphin and Trevor Booker show signs of being tough bangers on defense as well. Veterans Rashard Lewis, Ronny Turiaf, Roger Mason and Mo Evans will hopefully contribute more in the locker room than with their on-court production at this point in their careers. The plan is patience while Wall continuing to grow into a potential superstar by
attacking the basket, limiting turnovers
, and getting a better understanding of defending the pick and roll.
13. Toronto Raptors
Jonas is just a year away.
The Raptors are finally headed in the right direction...just not this year. Dwane Casey was a great head coaching hire who will improve this horrid defense right away, and they got his future stud center in the middle by drafting 19 year old Jonas Valanciunas out of Lithuania. It's okay that he won't be coming from Europe until next year since this is basically a sacrificed season for the Raptors anyway. After some growing pains with a rookie coach and limited roster, they'll likely have a very high draft pick in the loaded 2012 class, and I've been picturing for months how my beloved Tar Heel, Harrison Barnes, would fit on this team. Another North Carolina product, Ed Davis, showed why he was a steal with the 13th pick in last year's draft by proving to be a double-double machine when finally healthy and given the opportunity. Right now, he is likely behind Andrea Bargnani and Amir Johnson, who are also nice, young players, but they have both shown their obvious limitations. Johnson is a good rebounder and shot-blocker, but he lacks strength on defense and fouls too much. Bargnani is a former #1 pick who has proven to be a good scorer with his shooting but is allergic to rebounding and help defense despite his mobility. Perhaps Casey could motivate him, or athletic wings--DeMar DeRozan and James Johnson--to actually try on defense, and this team could be competitive. DeRozan has shown his potential to be a strong scorer despite his shaky outside shot, and fellow guard Jerryd Bayless is a similar player but needs to become more of a passer. As it stands, Jose Calderon is great at running the offense but is barely an impediment on defense. Sense a theme and why Casey was so badly needed?
14. Cleveland Cavaliers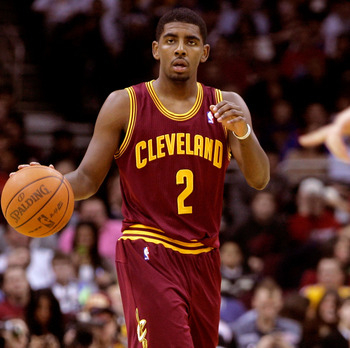 Irving was the safe #1 pick.
I may be underrating the young talent here, and the team has cleaned up its cap situation going forward. However, I'm just not optimistic about this organization; I really don't like the owner, Dan Gilbert. I thought the draft choice of Kyrie Irving #1 was probably the right decision because he doesn't have many flaws at point guard, but I wasn't a huge fan of picking big man Tristan Thompson #4 overall. Veteran Antawn Jamison currently mans the power forward position, but he's on a large expiring contract that could be valuable in a trade. Having Anderson Varejao healthy will make a big difference defensively with his activity inside, and I like Christian Eyenga and Omri Casspi as athletic defenders on the wing, but each of those positions could be improved upon. Ramon Sessions is a nice scoring point guard off the bench without much defense, and I like the talented, yet inconsistent young big man Samardo Samuels out of Louisville. The groundwork has been mostly laid out, so let's see where this team can go.
15. Charlotte Bobcats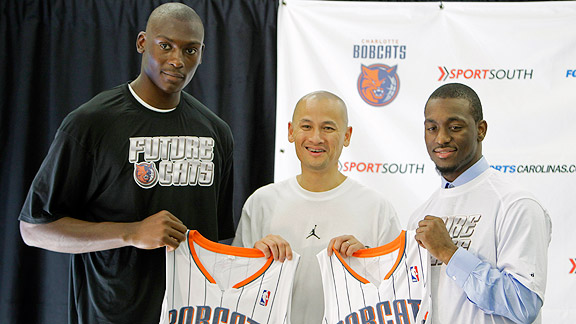 Biyombo, Cho, and Walker represent an improving future.
Well, the good news is that things are finally headed in the right direction under new GM Rich Cho after years of mismanagement at the behest of Larry Brown. That doesn't mean this year will be very pretty, however. As a reward for taking on Corey Maggette and his contract, the team was able to land two top-10 picks who I like a lot but carry some risk in Kemba Walker and Bismack Biyombo. Walker will compete with D.J. Augustin all year for the starting point guard spot and will be an improvement once he does. After finally
settling his buyout issues in Spain
, Biyombo will eventually compete for the starting center spot on a team that desperately needs one. Byron Mullens was a nice low-risk pickup at center from Oklahoma City, Cho's former organization, and his offense will be a nice boost off the bench. I really like the chances of another former Thundre player, D.J. White, to form a nice offense/defense duo at power forward with Tyrus Thomas now that he finally has an opportunity and is healthy. Gerald Henderson is a tough defensive wing who could become very valuable if he hones his outside shot while Reggie Williams was a good, cheap signing to improve the offense when he's healthy. Anything they get from the-versatile-but-fat Boris Diaw (as he
must
always be referred by) is a bonus alongside the kids. If some of these moves work out, then there might actually be a future in Charlotte.