It's finally here. After the idiotically prolonged lockout, the opening day of the NBA season is about to arrive. How did Christmas sneak up on me like that?
Here's the first part of my NBA outlook: the Western Conference playoff teams.
(Here's a look-back at
last year's edition.
)
The Thunder are looking to drive past the new-look Mavs.
1. Oklahoma City Thunder
OKC's Big Three
The kid's almost won the West last year before their youth showed, but now they're battle tested with another year of experience. I've written in the past about how James Harden
needs to start
, but suffice it say that he opens up so much for the offense with his 3 point shooting and passing,
especially out of the pick and roll
. He's primed to make, as Bill Simmons says, The Leap, and although he could be the 6th Man of the Year, he's desperately needed in the starting lineup. With Thabo Sefolosha starting as well as Serge Ibaka and Kendrick Perkins, the defense can focus entirely on Kevin Durant and Russell Westbrook. And no, there's nothing to the reported chemistry issues between the two stars or that the bench HAS to have an instant scorer off the bench. The roster is very deep, and you can find enough combinations while keeping at least one of the three main scorers on the floor. Furthermore, Harden is a much improved defender from his rookie year, and he has a healthy, leaner Perkins and Ibaka-the-shot-blocka as a full time starter behind him to recover for any lapses.Young legs + roster continuity = success in the lockout-condensed season and a happy Thunder fan writing this blog.
2. Dallas Mavericks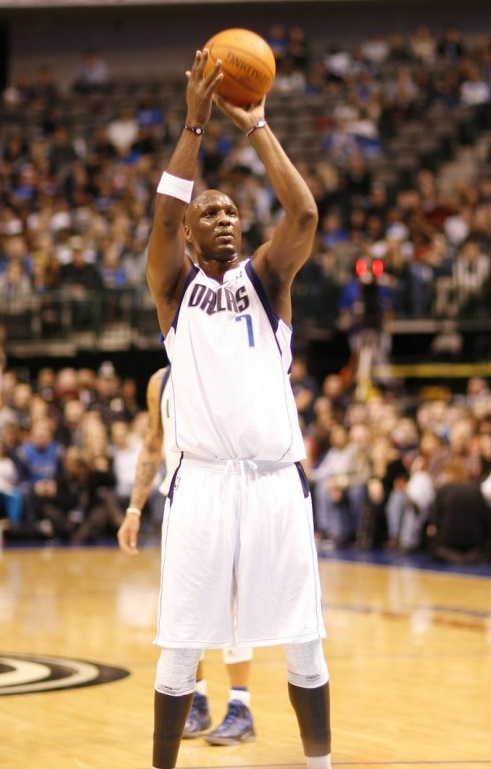 Lamar just doesn't look right in Mavs colors.
These aren't your usual defending champs, and it's not just because the lockout diverted attention from them. They placed an emphasis on cap-flexibility going into next summer in the hopes of luring Dwight Howard or Dallas-native Deron Williams as free agents, so they let Tyson Chandler, you know, the linchpin of their championship defense, leave for the Big Apple. However, they shrewdly made it a sign-and-trade for the cheap contract of Andy Rautins (who was subsequently waived) in order to gain a trade-exception. Inexplicably, the Lakers gifted Lamar Odom into that exception for a mere future first round pick. They continued to bring players in on one year deals or with non-guaranteed future deals like Odom and Vince Carter. They let DeShawn Stevenson walk and Caron Butler head to Lob City, and traded the (recently added) Rudy Fernandez and Corey Brewer to Denver for practically nothing. As a result, there defense will take a big step back, but they'll be more versatile on offense. Getting Roddy Buckets healthy could be a huge addition on both ends, but come crunch time, I don't see them getting enough stops for Dirk to work his clutch magic.
I loved what SA did during the draft.
3. San Antonio Spurs
Oh yeah, the Spurs were the team that had the best record in the West last year. Although, this is the last year of Tim Duncan's contract (and career?) with the title window is closing rapidly for this veteran team, Coach Popovich is the perfect coach to manage his players' minutes in this compressed season. I think the young players like Kawhi Leonard , James Anderson, Tiago Splitter, and Cory Joseph can bring an injection of life to the team if given enough minutes like Gary Neal did last year. There will be times when Pop gives his vets the night off, and they're always more susceptible to injury given their age, like in last season's playoffs, so the 3 seed sounds about right.
4. Denver Nuggets
I don't think the "10-deep with no go-to guy" team can get far in the playoffs, but it can be deadly in the regular season and especially so in this compressed season. There's some roster turnover here with J.R. Smith, Wilson Chandler, and Kenyon Martin stuck in China and Ray Felton swapped for Andre Miller, but this is a very deep team with some young legs. I think Ty Lawson and Danilo Gallinari will thrive with their larger roles, and I love what the re-signed Arron Afflalo brings to the table. Nene got his new contract and is a force inside, and the rugged rookie Kenneth Faried will become a great compliment to him along with Timofey Mosgov, Chris Andersen, and Al Harrington. Brewer and Fernandez are great cheap additions, and rookie Jordan Hamilton can become instant offense off the bench as well. They have a lot of nice pieces going forward, and hopefully Lawson and/or Gallinari will take that next step towards stardom.
5. L.A. Lakers
At least Kobe's got the post-divorce goatee going for him.
Things aren't off to a good start for new coach Mike Brown, who may have been in over his head to begin with. There's Kobe dealing with his divorce and wrist injury. There's the controversial non-trade for Chris Paul that was an absolute travesty. And then there's the subsequent trade of Lamar Odom who was disgruntled that they were about to trade him to New Orleans. Instead of shopping around for the best offer, they quickly dealt him in what was essentially a salary dump for merely a future, protected first round pick. To whom you ask? The Mavs, of all teams. You know, the defending champs who swept them in the second round. I didn't think it was even that great a trade for the Lakers since they'd be taking a great risk relying entirely on the knees of Paul, Kobe Bryant, and Andrew Bynum in a compressed season. Their big move was signing Josh McRoberts to basically take Odom's place. McBob is a decent player, but he's not even close to Odom's level. Although I like the potential (to an extent) in Darius Morris, Devin Ebanks, and Derrick Caracter, assets and depth are almost nonexistent, and their cap situation is not good for the foreseeable future. That might not be a problem with the amount of TV revenue coming in and the appeal of the Lakers brand, but it will be difficult to put a true title contender on the floor this year or next.
6. Memphis Grizzlies
Can Gay stand tall when called upon?
I would have had the Grizz a spot or two higher if the costly Darrell Arthur injury hadn't made me aware of the lack of front court depth. Arthur was so valuable as a third big who could guard the pick and roll effectively in addition to providing some instant offense. I always wanted O.J. Mayo on the Bulls, but a Mayo-for-Asik/Gibson trade that would be perfect for both teams is improbable with Chicago's signing of Rip Hamilton. Still, Mayo, who isn't likely in Memphis' long-term plans anymore, could be a valuable trade piece. They got a potential steal in the second round with Josh Selby, who could step in as a 6th man in Mayo's stead. Hopefully Rudy Gay is fully recovered from his shoulder injury and can prove to be that perimeter weapon they needed in the playoffs to complement Zach Randolph and Marc Gasol devastating Hi-Low game inside. Mike Conley and Tony Allen earned the contracts they got last summer, but their potential title hopes hinge on Gay. For the record, I made a 5 dollar bet with ridiculous 30-1 odds on Memphis to win the Finals, so I hope Xavier Henry can replace the departed Shane Battier's role, and the newly-signed Dante Cunningham can adequately step in for Arthur.
7. L.A. Clippers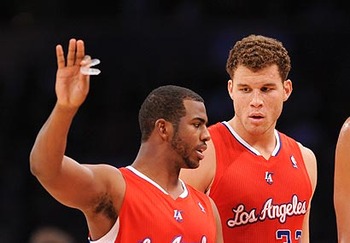 "So I'll throw it up, and you go get it."
As I predicted
, CP3 did end up with the
other
L.A. team, albeit with a little help from David Stern's dictatorship. They ended up having to give up Eric Gordon, but they also won the amnesty bidding for Chauncey Billups, which helps them financially going forward. As it stands, this team suddenly has a lot of potential and a lot of the hype and expectations that comes with it. Heck, you can already purchase
Lob City t-shirts
. Paul
will flourish
with Blake Griffin in the pick and roll and make DeAndre Jordan a highlight dunk machine while setting up Chauncey and Caron Butler for open 3's. They still need a defensive stopper on the wing and another big off the bench, and although I like the Georgia second round picks, Travis Leslie and Trey Thompkins, they probably aren't ready. Still, this team used their assets wisely and have big things ahead.
8. Portland Trail Blazers
Aldridge did a nice job recruiting Crawford.
I think each of these last five teams could all realistically finish higher, but I picked Portland to be 8th because I don't think they can make it through the season. They have lost so much depth to injuries, but I do like the pieces they have and the additions they've made. Raymond Felton won't throw as many lobs to LaMarcus Aldridge as Andy Miller did, but he will space the floor better with his outside shooting and give Wesley Matthews and Nicolas Batum more room to operate coming off curls. Aldridge really shined when he had to put the team on his back, and I thought he should have been an All-Star. The offense really took off when he logged time at center, so he can spell veterans Marcus Camby and under-the-radar-signee Kurt Thomas when needed. The Craig Smith signing also provides nice front court depth, and Gerald Wallace played well as an undersized 4 after he was stolen from Charlotte last season. They got Jamal Crawford at a very reasonable deal to provide much needed security in case youngsters Elliot Williams, Armon Johnson, and Nolan Smith aren't ready to contribute off the bench. Overall this team could do some damage if the matchups fall their way in the playoffs.