I hope everyone had a Merry Christmas and enjoyed the NBA's opening day. Here's the second part of my NBA outlook: the Eastern Conference playoff teams. And no, the first day of games did not influence these picks, since I wrote part of them before Sunday and had my mind made up already.
(Here's a look-back at
last year's edition
)
Can LeBron top D.Rose again?
1. Miami Heat
If LeBron takes advantage of his size in the post, watch out.
The most talented team in the league who blew its chance in the Finals has had a prolonged off-season to stew over their defeat and think of ways to better work together. The new CBA limited the amount they could spend through the Mid-Level Exception, but they were still able to add Shane Battier to their already versatile lineup. In addition to his defense and 3-point range, he'll provide a steady presence in the locker room that might have been the difference in LeBron James wearing a ring right now. Now, James has apparently (finally) spent extensive time working on his post game, which would be a significant improvement to their offense. Furthermore, Coach Spoelstra has worked on implementing more plays of the Triangle and Corner offense to better allow James and Dwyane Wade to work off each other with Chris Bosh, and he is encouraging a
much
faster pace to take advantage of their athleticism that will be lethal with their swarming defense. I also loved the trade to allow them to draft point guard Norris Cole out of Cleveland State to help push the pace. He can help control the tempo, has a nice jumper, and is a fearless competitor despite coming from a small school. This is clearly the team to beat.
2. Chicago Bulls
Will Rip prove me wrong and be an impact?
Yes, this is the team that won 62 games last year, the most in the league, and made a big splash by signing Rip Hamilton, but I don't think he has anything substantial left in the tank that will put them over the top. Don't get me wrong, this IS an elite team that can win any game thanks to Tom Thibodeau's defense and Derrick Rose's ability to close out games. I just think that this team could have become scary good if they had acquired a better shooting guard than Hamilton, such as O.J. Mayo, but instead, they are the third best team in the league. As it stands, Hamilton can help handle the ball and create space for the offense with his shooting, but Rose still has to handle so much responsibility of the offense, and they still lack a real 3 point threat that can also defend. Their depth is a real strength, however, with viable shooting and defensive options off the bench. Otherwise, Luol Deng and Joakim Noah have their limits, but they both contribute greatly on both ends of the court, and I expect Carlos Boozer to have a nice bounce back season as a real offensive threat inside. The 2 seed is an almost guarantee, and a championship isn't far off if the Heat or Thunder slip up.
3. Boston Celtics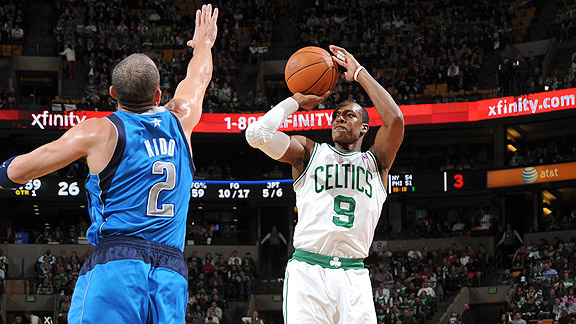 Will Rondo take the shot with confidence late in games?
I hated having to make this pick because I don't trust any of the rest of these teams. I'm going with the Celtics over the Knicks as the next best team for the simple reason that Doc Rivers is a much better coach than Mike D'Antoni. On the court, this team is old and shallow, which isn't a good combination for this compressed season. If healthy, the Big 3 will be their consistent good selves, so it's up to Rondo to play at an elite level for this team to be a contender after so many trade rumors. Can he step up in crunch time and not be afraid to take that mid-range jumper or draw contact and shoot foul shots? If not, then this team will struggle to score late in games. A boost to the offense overall was the addition of Brandon Bass, who's both a better and cheaper player than the man he was traded for, Glen Davis. Bass will bring instant offense and rebounding off the bench, and his defensive deficiencies can be hidden in Boston's defensive system, especially when he's paired with KG in the front court. Losing Jeff Green to a heart condition is really unfortunate, and the signings to replace him are underwhelming, at best. Hence, my lack of faith in the overall talent of this roster leaves me to barely pick them as third in the East.
4. New York Knicks
NY has an imposing front line, but the back court is lacking.
After the Carmelo Anthony trade last season,
I said
that it was a high price to pay to still lose in the first round and not likely be able to add a third superstar. They were indeed swept in the first round, but I couldn't have imagined that they would be able to bring in Tyson Chandler, who isn't a superstar but a definite impact player. First, let me say that it is laughable that the Knicks' resources are so immense that they could basically burn $10 million by guaranteeing Chauncey Billups' contract shortly before the lockout and then granting him amnesty in order to clear the salary cap space for Chandler. Now, Chandler is a great fit as a defensive anchor behind Amare Stoudemire and Carmelo, but the team is without a point guard run the show. Anthony can operate a pick and roll effectively and has a decent shot performing well in a point-forward role, but Toney Douglas is more of a scorer than passer. Although I like him as a defensive role player, I don't believe in the hype around rookie Iman Shumpert as a potential star. As for Mike Bibby and Baron Davis, well, there's a reason they were both available for the minimum. If Baron can get healthy and motivated, then there's the potential that he can feed off the crowd at MSG like he used to at Oracle for the Warriors, but it isn't likely. Lastly, Landry Fields is another nice but overrated role player, and there isn't much to speak of off the bench, so you can expect Mike D'Antoni to play his players into the ground even with this compressed season.
5. Indiana Pacers
Paul George has a smooth game to watch for.
I love what Larry Bird has done with this team, and I was even tempted to put them higher. For now, let's see what Coach Frank Vogel can do with this deep, potential laden squad. David West was a great signing for just 2 years, $20 million and is a great veteran fit for this young team with his professionalism in addition to his shooting. His addition also allows Tyler Hansbrough to be the energy big man off a bench that also added the well rounded George Hill. West is also reunited with former Hornets teammate Darren Collison, who somewhat disappointing in his first year as a Pacer but can still run a nice pick and pop with West. Sharpshooter Danny Granger is still, of course, the main option on this team, but now the offense is more open with room to operate for both him and center Roy Hibbert. The player I really want to keep my eye on, however, is second year man Paul George, whom I had rated
fairly high
when drafted. He supposedly added another inch to his already impressive size for a wing and showed flashes last year of the talent that makes him so promising with his athleticism, shooting, and defensive instincts. Lance Stephenson is another 2nd year player with obvious talent to watch, but George is my bet to become a future franchise cornerstone.
6. Orlando Magic
Will Superman fly away?
I think GM Otis Smith rides it out and keeps Dwight Howard the whole way since he'll be fired if they don't win anyway. After a series of bad moves, this roster is flooded with overpaid contracts even after granting Gilbert Arenas amnesty. Hedo Turkoglu is not the same player who led this team to the Finals in '09, and, as described above, Big Baby Davis was a downgrade from Bass. I'm surprised Jason Richardson re-signed since he struggled after he was traded to Orlando, but it gives Coach Stan Van Gundy lineup options with him, Turkoglu, J.J. Redick, and Quentin Richardson. On the other hand, I loved the re-signing of Earl Clark on a modest deal since he's still young with potential and played well enough when given minutes. Ryan Anderson is the other young big man with potential, and I really think he's going to breakout this season as a sharpshooter who can also grab bushels of rebounds. They drafted a very similar player whom I like in Justin Harper out of Richmond, but Anderson is the one who will emerge this year as a very nice role player. Unfortunately for Dwight, that's basically what this roster contains around him even at its peak: very nice role players. Jameer Nelson is effective at running the show, but they need someone more dynamic on the perimeter to be the second star so desperately needed in order to keep their franchise cornerstone in place this summer.
7. Philadelphia 76ers
Will Holiday make the 3rd year leap?
Doug Collins didn't win Coach of the Year
as I expected
, but he did lead a big turnaround by making the Sixers a playoff team. How much further he can take them is yet to be seen. Re-signing Thaddeus Young was a good, albeit costly, move, but he still doesn't have a true position on this team as a match with Andre Iguodola or Elton Brand at forward. Young's emerging talent makes him a strong 6th man of the year candidate, but hopefully he will eventually emerge as a true star with his mismatch potential. Last year's #2 overall pick Evan Turner is also an overlap in talents with Iguodola, which contributes to Iggy almost always being on the trade block. As it stands, the perimeter defense is a real strength with Iggy, Turner, and point guard Jrue Holiday, but the latter is the only good outside shooter which is why the one dimensional Jodie Meeks started 64 games last year. Turner especially struggled by settling for, and missing, mid-range jumpers instead of getting to the free throw line, and he likely will never be a superstar. Holiday, on the other hand, has the potential to be a perennial All-Star, and although he didn't finish 2nd in MIP voting as I predicted, he showed that type of improvement last season. Up front, Brand is overpaid but still serviceable, and re-signing Spencer Hawes on a one year deal is reasonable since first round pick Nikola Vucevic isn't ready yet. I wasn't a big fan of the Vucevic pick, but he does have much needed size and offensive skills that can help this team. However, barring substantial jumps in production from the young players, this team is headed for a likely early exit.
8. Atlanta Hawks
Could Smith be on the move?
This team is essentially stuck in limbo now with Joe Johnson's albatross of a contract weighing down cheap ownership. They had to let Jamal Crawford leave as a free agent, and while Tracy McGrady was a good signing for the minimum, that's a definite downgrade. Jeff Teague's emergence is a welcome addition at point guard and can allow for dangerous three guard lineups with Kirk Hinrich moving to off-guard and Johnson sliding up to the 3 with his size. Unfortunately, Hinrich is out for a large chunk of the season with a shoulder injury. Up front, Al Horford and Josh Smith are an undersized but talented duo. Smith has been quietly lobbying for a trade, and that would allow Horford to move to his more natural power forward position. Marvin Williams is still in the picture but has stopped improving from a promising 2009 season and probably needs a change of scenery to truly make use of his talents. Thus, unless management blows up this core, there's hardly any chance for improvement.