Here's the final installment of my 2011-2012 NBA season outlook: the post season awards. I'm proud of
my picks last year
that did pretty well, but only the Defensive Player of the Year pick turned out correct. I'm expecting more hits this year, of course. (Note: I'm not going to repeat previous choices from any award for MIP since they're no longer under the radar.)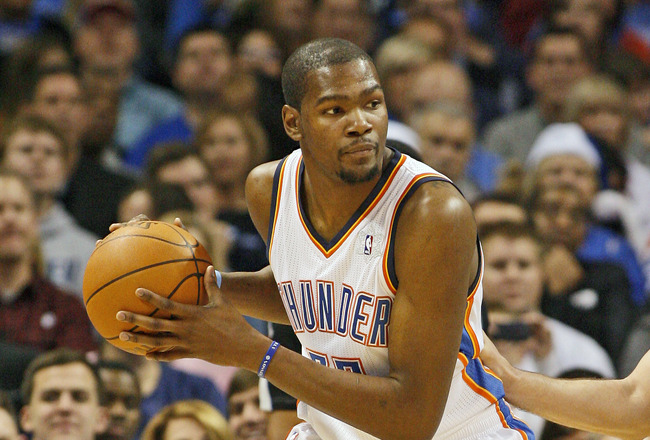 It's no surprise who I have as MVP.
MVP: 1. Kevin Durant. 2. LeBron James. 3. Derrick Rose.
After an amazing offseason filled with
summer leagues
and
flag
football
, KD is ready to have his best season yet. It's hard to believe he's already in his fifth year and yet is still just 23 years old, and he'll likely be leading the Thunder to the best record in the West. Could he becomes just the sixth player to record a 50-40-90 season? He has such a smooth game that he makes it look easy. In addition, I think he will lead the league in scoring for a third straight season AND average over 4 assists per game for the first time in his career. He's devoted to doing more posting up this year (
in Dirk-like fashion
), and I've always said he's an underrated passer who makes the right basketball play when double-teamed: it's just a matter of his teammates making shots. That will happen with way this team is now built around him now, but I think his rebounding might dip a touch below his usual 7 per game with Serge Ibaka and Kendrick Perkins snatching more of the available boards around him. He might play in more small ball lineups at the 4 to offset this, but in order for those lineups to be effective, he'll have to better understand the intricacies of guarding the pick and roll and making the right rotations in time. Regardless, a 50-40-90 season while averaging 30 points, 7 rebounds, and 4 assists on a #1 seed is an MVP year.
As for the other candidates, I still think LeBron is the best player in the league. If he puts up his usual big numbers, stays committed to his post game, and leads Miami to the best record in the league, then I can see him winning the award despite splitting votes with Dwyane Wade, a perennial MVP candidate in his own right. I wasn't a huge proponent of Derrick Rose winning the award last season, but I can understand it this year as he continues to improve his efficiency with his free throw rate and increasingly dangerous 3 point shot. With full seasons from Carlos Boozer, Joakim Noah, and Rip Hamilton, Rose's assist and efficiency numbers could take another leap and result in consecutive MVP awards as well as claiming the "best point guard in the league" title from Chris Paul.
Dwight is Might.
Defensive Player of the Year: 1. Dwight Howard. 2. LeBron James. 3. Tyson Chandler.
Dwight Howard might miss out on his fair share of MVP votes due to his team's record and questions about him leaving Orlando, but he is still the most dominant defensive player in the game. Not only does his strength play well in post defense and rebounding, but he constantly covers up for teammates mistakes as a last line of defense and impacts even more shots than he blocks.
Part of what makes LeBron the best player in the world, in my eyes, is his versatility to lock up any type of opponent with his size, strength, and quickness. He can effectively defend against virtually any type of guard, forward, and even some centers.
Tyson Chandler barely edged out Serge Ibaka for my third place choice because of the amount of attention he'll get in New York. His mobility is going to help make up for Carmelo and Amare's defensive mistakes so much that he'll draw more votes than the man who led the league in total blocks last season. Besides Ibaka, I'd also like to point out some of my favorite defenders who don't always get the attention they deserve on that end: Chris Paul, Dwyane Wade, Tony Allen, Andre Iguodola, Gerald Wallace, Andrew Bogut, Luol Deng, Corey Brewer, Joakim Noah, and Omer Asik. (Yes, I have four Bulls on that list; Asik is one of my favorite under the radar players.)
Oh Ricky, I never know what's coming next.
Rookie of the Year: 1. Ricky Rubio. 2. Kyrie Irving. 3. Derrick Williams
I like Rubio to edge out his teammate Williams and this year's #1 pick Irving because he'll have the ball in his hands more and has more experience being a pro.
(Sidenote: I don't think it's fair that players who aren't first year pros, like Rubio this year or Griffin last year, to be eligible for his award, but that's another matter.)
Rubio will make a ton of highlights with his flashy passes of the bounce and no look variety, and I compare him to Rajon Rondo because of how much he
wants
to get the ball to teammates. He can make outside shots, but he won't make a high amount and doesn't want to take many in the first place.
I've written about Irving and Williams
recently enough
that I won't repeat it here, and while I think they will be successful, I think they'll also have their share of growing pains while competing for minutes.
Fear the Beard.
Most Improved Player: 1. James Harden. 2. Ty Lawson. 3. Eric Gordon
I'm putting Harden here instead of 6th Man because I've repeatedly stated how he needs to become the starter this year. He just opens up so much of the offense with his outside shot alone. He is a very good rebounder for his size, possibly the best passer on the team, and a free throw machine. He's in line for a big year.
I'm really excited for Lawson to finally get his opportunity to start for the full year. Going back to even his North Carolina days, everyone knows he can push the tempo and get into the lane with his speed and quickness, but he's also a vastly underrated outside shooter. He's also a pesky defender with that quickness, but his size is a limitation on his potential at that end.
After headlining the CP3 trade, Gordon isn't as under the radar as I prefer for my picks, but that will help his chances of winning this award in real life. He's going to be the go-to guy in New Orleans on offense, and he's also surprisingly tough on defense. He's really improved in his pick and roll play, especially in his passing out of it, and his outside shot will always be deadly. All this adds up to big numbers on a mediocre team that could steal this award.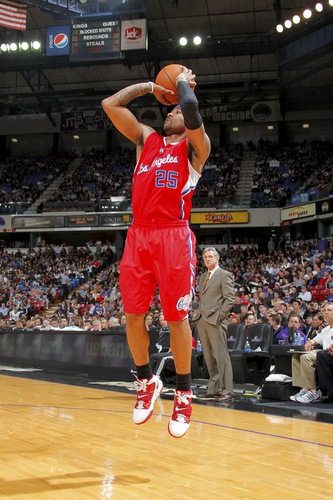 Mo's going to have a lot of open looks.
Sixth Man of the Year: 1. Mo Williams. 2. Lamar Odom. 3. Jamal Crawford
Williams is suddenly bumped down to the bench after the Clippers' acquisitions of fellow point guards Chris Paul and Chauncey Billups, so he could be traded for more depth. If he is retained the whole year, however, I could definitely see him winning the 6th man award in a Jason Terry-like role. His shooting will be very useful around Paul and Blake Griffin.
Odom and Crawford are both former winners of the award who are now on new teams who brought them in to play big roles this year. They're going to get a lot of minutes off the bench and possibly be big impacts in the playoff race.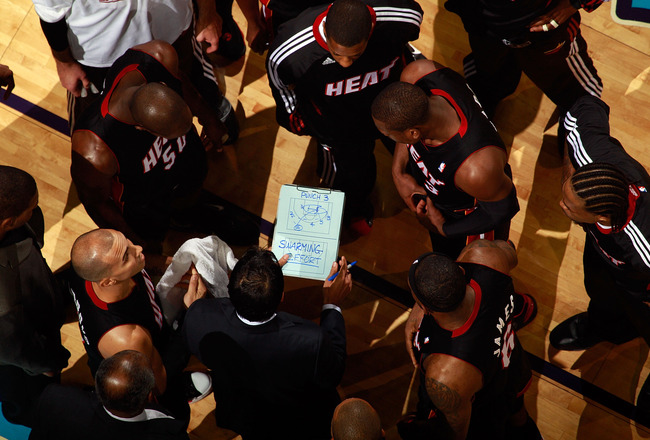 Spo' is the man coming out of timeouts.
Coach of the Year: 1. Erik Spoelstra. 2. Gregg Popovich. 3. Rick Adelman
Spoelstra doesn't get enough credit for his play designs. Throughout last season, NBAplaybook.com highlighted his amazing out of bounds plays, and his blitzing defense wrecks tons of havoc. He slowly introduced concepts of both the corner and triangle offense, and he has spent time this offseason working on a more up-tempo approach to take advantage of his team's strengths.
Pop always manages his players' minutes well while putting them in the best position to win, and that could prove to be crucial in this compressed season.
If Adellman can change the perception around Minnesota and get them respectable, he will gain even more accolades in his great career.