We should have know. Well, more specifically, I should have known better than to not bet on the NBA-owned Hornets in the lottery (to be fair, Saints owner Tom Benson should officially become the owner over the summer). [EDIT: I should add that while suspect, I am not one to believe in conspiracy theories.
Zach Lowe's excellent coverage of the lottery process
make it pretty clear that it is practically impossible to rig the results.] When looking at the betting odds for the lottery, I went with the 8/1 Kings because they almost always drop in the lottery process, and I thought they were due for some positive energy to help harbor their arena situation. Plus, an all-Kentucky frontcourt of Anthony Davis with DeMarcus Cousins would have been incredible. I stared long and hard at the 5/1 odds for the Hornets as a secondary bet but didn't pull the trigger. Alas, it's over now, and the lottery order is now set after the unusual occurrence of just one team jumping up while the rest held to form. Let's mock:
1. Hornets: Kentucky F/C Anthony Davis
: A no-brainer that should help the team's chances of re-signing restricted free agent Eric Gordon if they open up the wallet. It's unclear whether or not the team will re-sign Chris Kaman and/or trade Emeka Okafor, but Davis would fit with either of them as well as rookie Gustavo Ayon, who showed to be a solid rotation big man.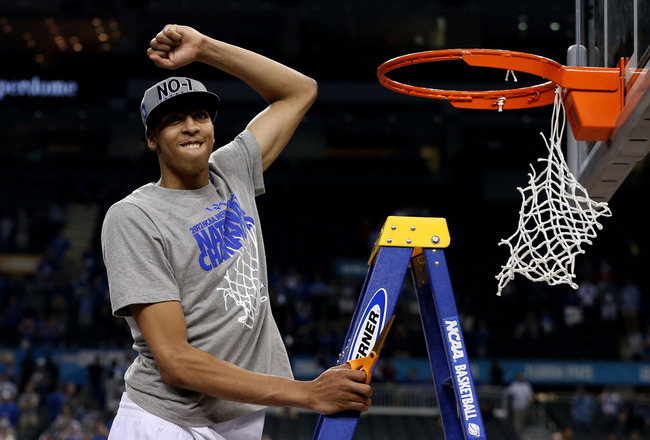 The 'Brow is excited to go back to the city where he won the  National Championship.