We should have know. Well, more specifically, I should have known better than to not bet on the NBA-owned Hornets in the lottery (to be fair, Saints owner Tom Benson should officially become the owner over the summer). [EDIT: I should add that while suspect, I am not one to believe in conspiracy theories.
Zach Lowe's excellent coverage of the lottery process
make it pretty clear that it is practically impossible to rig the results.] When looking at the betting odds for the lottery, I went with the 8/1 Kings because they almost always drop in the lottery process, and I thought they were due for some positive energy to help harbor their arena situation. Plus, an all-Kentucky frontcourt of Anthony Davis with DeMarcus Cousins would have been incredible. I stared long and hard at the 5/1 odds for the Hornets as a secondary bet but didn't pull the trigger. Alas, it's over now, and the lottery order is now set after the unusual occurrence of just one team jumping up while the rest held to form. Let's mock:
1. Hornets: Kentucky F/C Anthony Davis
: A no-brainer that should help the team's chances of re-signing restricted free agent Eric Gordon if they open up the wallet. It's unclear whether or not the team will re-sign Chris Kaman and/or trade Emeka Okafor, but Davis would fit with either of them as well as rookie Gustavo Ayon, who showed to be a solid rotation big man.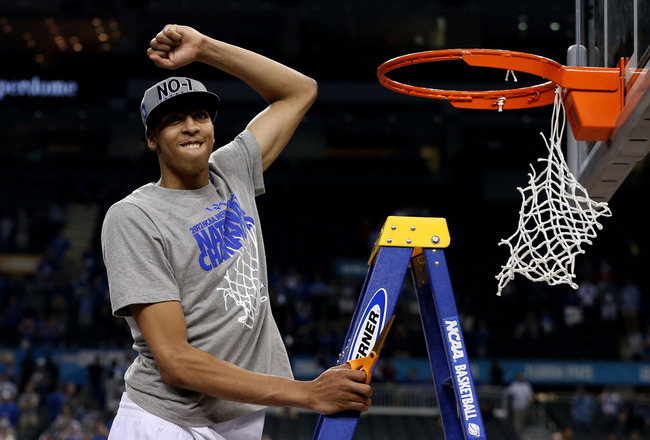 The 'Brow is excited to go back to the city where he won the National Championship.
2. Bobcats: Kentucky SF Michael Kidd-Gilchrist
: the beleaguered 'Cats were teased with the second pick in a draft that is deep in talent but only rich with one surefire franchise changer. I believe in MKG's ability to turn a team around with his leadership and defensive intensity, but Charlotte could be looking at Thomas Robinson's much needed interior scoring to go along with the defensive presence of Bismack Biyombo. Although that frontcourt pairing is tempting, I think they do have capable bigs (I'm still a fan of D.J. White, Tyrus Thomas, and Byron Mullens), and they fill the slightly bigger hole at small forward. Although this team had the worst winning percentage in NBA history, Kidd-Gilchrist has proven to be a winner at every level, and he and Davis would become the first pair of teammates to be drafted with the top two picks.
3. Wizards: Florida SG Bradley Beal
: Again, D.C. native Thomas Robinson is tempting since he possesses the type of attitude that the 'Zards locker room is trying to attain, but Beal is a high character young man as well. Beal allows Washington to surround John Wall with a more efficient shooter and playmaker than Jordan Crawford while recent first round picks Jan Vesely, Kevin Seraphin, and Trevor Booker showed potential at forward alongside mid-season acquisition Nene.
4. Cavaliers: Kansas PF Thomas Robinson
: This pick presents the typical draft philosophy dilemmas of upside versus risk and best player available versus positional needs because both T-Rob and Andre Drummond would be welcomed interior options for rookie of the year Kyrie Irving. Long-term, Drummond has more upside and would fit better alongside Tristian Thompson, who showed potential last year but was still a reach with the fourth pick, but Robinson is the safer play while still having some upside along with the ability to make an impact playing alongside Anderson Varejao right now. However, the wing positions are actually the Cavaliers' biggest needs, and they were rumored to be high on Harrison Barnes last year before he returned to school. Irving and Barnes played superbly together at the Nike Hoop Summit two years ago, leading the USA team to a comeback victory, and the former Duke and North Carolina stars would form a deadly perimeter tandem in Cleveland.
Robinson and Sullinger are battling a number of prospects for draft position.
5. Kings: Connecticut PF/C Andre Drummond
: I think the Kings take whichever player the Cavaliers don't choose or trade the pick for veteran help. Drummond's athleticism and defensive potential could provide a devastation combination with budding star big man DeMarcus Cousins, and the Cousins selection itself proved that Sacramento is not afraid to roll the dice with the 5th pick. Barnes is also a strong option here as a much needed two-way player who can space the floor, and he would allow Tyreke Evans to move to his most natural position of shooting guard after experiments at point guard and small forward.
6. Trail Blazers: Ohio State PF/C Jared Sullinger
: The Blazers can go a lot of different ways here with LaMarcus Aldridge locked in as the franchise cornerstone, Nicolas Batum likely to be retained in restricted free agency, and the #11 pick available to trade for a veteran or fill in whatever hole isn't addressed with this pick. I think this is too high for one of the point guards, and Sullinger would be a strong interior partner for Aldridge. They might not form the quickest tandem, but they could interchange defensive matchups based on the situation while playing a nice Hi-Lo game with each being capable of playing inside or out. Drummond would also be an intriguing big man alongside Aldridge if he lasts this long as well.
7. Warriors: North Carolina SF Harrison Barnes
: I'm torn because I would love for the Black Falcon to land in the Bay Area but also want him to go as high as possible since Clevaland and Sacramento are legitimate possibilities. The Warriors are just happy to be able to keep this draft pick after tanking just enough, winning a coin flip with Toronto, and not being jumped in the lottery since it was top-7 protected from previous trade agreements. They're looking to add a starter alongside Stephen Curry, Klay Thompson, David Lee, and Andrew Bogut, and Barnes would fill that role well as one of the safest picks in the draft because two-way players who can shoot while still having some star potential are high commodities. They are not likely to keep all four of their draft picks (#7, #30, #35, and #52), so packaging some of them to move up either here or in the middle of the first round is a possibility as well. If they just feel that they do not need an additional four rookies added to their already young team, they could also draft a foreign player and stash him overseas as well. Trading this pick for a veteran small forward such as Andre Iguodala also makes sense, and Jeremy Lamb or Terrence Jones are potential fits, although there are positional questions.
Lamb has a long range of possibilities.
8. Raptors: Connecticut SG Jeremy Lamb
: With last year's #5 pick, Jonas Valanciunus, set to come over this year to play alongside fellow big men Andrea Bargnani, Ed Davis, and Amir Johnson, a perimeter player who can shoot and get to the rim would appear to be the biggest need. Lamb fits that role well and could play alongside incumbent shooting guard DeMar DeRozan, whose length and still inconsistent might make him a better fit at small forward, anyway. With Jose Calderon on the last year of his contract, a point guard of the future is a possibility as well, so Damian Lillard is also a strong option.
9. Pistons: North Carolina PF John Henson
: Greg Monroe really gained recognition this year as the potential star that he is, but for all his strengths, defensive mobility is still a concern. Enter Henson, who is a freak with his length and quickness. He would provide a dramatic increase in shot blocking along with further help on the boards, and as he continues to add strength, he will develop as an offensive option alongside Monroe. Perry Jones III is another strong option as an athletic forward oozing with talent, but his inconsistency over two years, positional questions (he wants to be a perimeter player despite being 6-11), and lack of a motor could scare teams away.
10. Hornets: Weber State PG Damian Lillard
: Nabbing both Davis and Lillard would be a huge get for the Hornets, as they get their big man and point guard of the future to go along with their solid core. Lillard could learn behind and play alongside Jarret Jack as he transitions from having to be a scoring point guard who dominates the competition at Weber State to the NBA game.
11. Trail Blazers: North Carolina PG Kendall Marshall
: I don't think it's likely that Portland keeps both picks, but if they do, one of them is likely to be a point guard (although they are likely to pursue Goran Dragic, among others, in free agency). Marshall would be nice fit as a pass first point guard on a team filled with scoring options, and in this scenario, he would finally be able to feed passes to his good friend, Jared Sullinger.
12. Bucks: North Carolina C Tyler Zeller
: This is a tough pick because Milwaukee has a lot of roster flexibility, especially with breakout big man Ersan Ilyasova hitting free agency. Zeller would be a safe, solid choice since the Bucks lack a true center after the Andrew Bogut trade. If they decide to go for upside instead, Perry Jones III would make sense given the versatility of the forwards on their roster.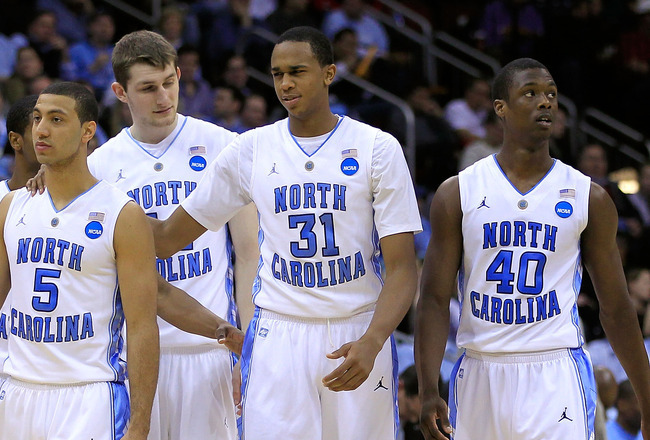 Yes, there are four Tar Heels in the lottery. Excuse me while I watch Marshall's wrist injury 300 more times.
13. Suns: Duke PG/SG Austin Rivers
: The Suns face uncertainty with Steve Nash as a free agent, but they need backcourt help, regardless. Rivers would give them a much needed scorer who can create his own offense and shoot with range, and he would make a good 6th man behind their better defenders. If Lamb lasts this long, he, Dion Waiters, and Terrance Ross are other strong options with different strengths.
14. Rockets: Baylor SF/PF Perry Jones III
: This would be a mighty drop for Jones, and things could change once teams see more of him in workouts. The Rockets have the #16 pick in addition to this one, and I doubt they keep both of them since their roster is filled with solid-to-average players. They need star potential, and Jones gives them that.