I went through my playoff picks
right here
, so now here's what I think of the rest of the NFC teams.
NFC East
1. Philadelphia Eagles 11-5
2. Dallas Cowboys 11-5
3. New York Giants 9-7
: So about those picks from last year...I was relatively spot on with most calls, but I picked the eventual Super Bowl champion Giants to come in fourth place in a competitive division. Yikes. I liked the moves they made to improve their team but thought that their rash of preseason injuries would take too big of a toll on them. Instead, no team took hold of the division, they snuck into the playoffs again, and caught fire with Eli Manning becoming the most clutch quarterback in the league. So why am I picking them to miss the playoffs this year? Well, they're shorthanded again, and I think their luck runs the other way this year.
Super Bowl hero Mario Manningham left for San Francisco in free agency, and although I think Victor Cruz is a good receiver, I don't think he'll be nearly as good as last season. Much like with Manningham a couple of years ago, they got another steal in the second round with Rueben Randle. He'll have some growing pains trying to offset the loss of Manningham as a rookie, and Hakeem Nicks should return to his studly ways after some foot issues in training camp. Martellus Bennet was a nice replacement signing at tight end, but some shuffling along the offensive line could cause some blocking trouble for Manning and runningbacks Ahmad Bradshaw and David Wilson, their first round pick. Across from Justin Tuck at defensive end, Jason Pierre-Paul could make this defense a strong unit just by himself. He's that good, and he may have to be in order to make up for a banged up secondary if this team is going to defend its title.
JPP might have to put the world on his shoulders.
4. Washington Redskins 6-10
: Getting Robert Griffin III came at a high price, but he will be worth it in the long run. I just wish that after trading their second round pick and two future firsts, they wouldn't have used their fourth rounder on his backup, Kirk Cousins. RG3 will have a solid offense around him with the free agent signings of Pierre Garcon and Joshua Morgan to go with the incumbent Santana Moss and a trio of runningbacks in a dynamic offensive system. I think that last year's third rounder, Leonard Hankerson, could turn out to be his best target, and tight end Fred Davis was having a career year before being the suspended the last four games of the year for repeatedly failing drug tests. Left tackle Trent Williams was also suspended, but he is the anchor of a questionable offensive line when in there.
The front seven of this 3-4 defense is strong, with the linebackers being a real strength. Brian Orakpo and Ryan Kerrigan might be the best duo of young pass rushers in the league, and they'll have to provide constant pressure on opposing quarterbacks because this secondary can be exploited. RG3 may end up in quite a few shootouts as a rookie.
NFC North
1. Green Bay Packers 13-3
2. Chicago Bears 9-7
: I thought the Bears were a bit overrated last year as "Super Bowl Sleepers" before Jay Cutler and Matt Forte went down with injuries. There's an outside shot of them contending, but some major questions about the left side of the offensive line and middle linebacker Brian Urlacher's health. Giving Jay Cutler good protection in the pocket will help prevent him from throwing the bone head interceptions I always think of when his name comes up. Getting Brandon Marshall, his favorite target in their days together in Denver, for 2012 and 2013 third round picks was a good trade, but they are still lacking other viable receiving options. Runningback Matt Forte was their leading receiver last year, and he was reward with a handsome contract. Signing Michael Bush to back him up was a steal along with backup quarterback Jason Campbell.
Defense has always been this team's calling card, and it should be solid yet again. Julius Peppers has always been one of the best defensive ends in the league, and if this team can generate a consistent pass rush, then this secondary will greatly benefit. Safeties Chris Conte and Major Wright are talented but inexperienced while corners Charles Tillman and Tim Jennings have strong reputations but are capable of being burned. Lance Briggs brings stability to the front seven, but Urlacher is their leader whose health is the biggest concern going forward.
3. Detroit Lions 8-8: Matt Stafford was finally able to stay healthy to solidify his status as a franchise quarterback en route to a surprise playoff berth, but this team has a lot of issues around him. I liked the first round selection of Riley Reiff to become his blindside protector of the future, but the offensive line is still a concern along with a very questionable running game. Jahvid Best is still dealing with concussion issues, last year's second round pick Mikel Leshoure missed his entire rookie season with a torn Achilles and is suspended the first two games of the season for marijuana use, and although I like Kevin Smith a lot, it seems like he hurts himself every other week. Calvin Johnson has become the best receiver in football like he was destined to be when he was the #2 pick in 2007 and earned his awesome "Megatron" moniker, and he may have to set some NFL records with the amount of passing this team will be doing to win games.
2nd year receiver Titus Young has been a favorite of mine since his days at Boise State and is on everyone's sleeper list because of his blazing speed lining up across from the double teams Johnson is sure to get. I also like this year's second round choice Ryan Broyles because he proved to be a reliable receiver across from all parts of the field over his years at Oklahoma, but he is coming off a torn ACL. Defensive end Ronnell Lewis and linebacker Travis Lewis were also drafted out of OU in the 4th and 7th rounds, but they are not likely to impact the defense this year.
This defense can generate a strong pass rush with Cliff Avril and Ndamukong Suh on the defensive line, but if they don't get sacks, this secondary will get burned. Safety Louis Delmas has been their best player, but he and cornerback Chris Houston have been dealing with injuries all of training camp. Their set of linebackers are solid against the run, but there is a reason they were let go from other teams in the past.
4. Minnesota Vikings 7-9: After some questionable moves last year, they had a strong offseason to help the rebuilding process. The offensive line was fortified with #4 overall pick left tackle Matt Kalil, receiver Jairus Wright was a nice value in the fourth round, and tight end John Carlson was signed as a free agent. He joins 2nd year tight end and fellow Notre Dame alumni Kyle Rudolph to provide 2nd year quarterback Christian Ponder reliable options in the passing game. They also traded back into the first round for safety Harrison Smith, another Notre Dame player, along with their 5th round pick, defensive back Robert Blanton, and veteran center, John Sullivan, each of which I am very high on. With start runningback Adrian Peterson making a shockingly quick recovery from a torn ACL and MCL, Ponder has a good group of players around him to continue his strong development. Once he took over in the middle of last year, do everything receiver Percy Harvin exploded onto the scene more so than ever and is ready for a breakout year if he can maintain some consistency.
The defense isn't what it once was, but the front seven is still a strong unit headlined by sack master Jared Allen at defensive end and the ever reliable Chad Greenway at linebacker. Across from Allen, Brian Robison is a player to watch after a career high 8 sacks last season. The secondary is still in development with Smith taking over at free safety and former second round cornerback Chris Cook just trying to stay healthy. This could become an opportunistic unit, but they are still a year or two away.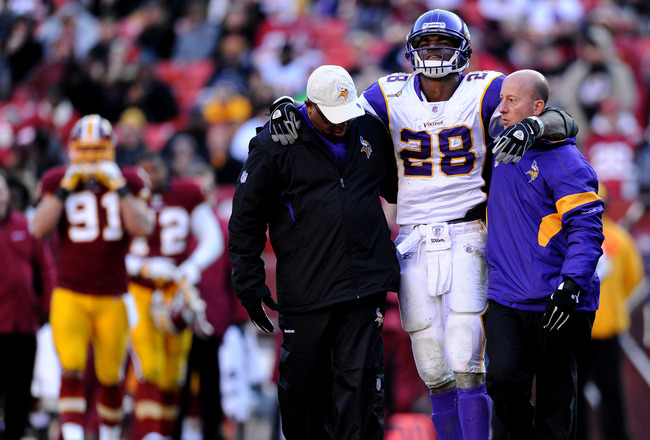 Less than 9 months since this injury, Peterson is already good to go.
NFC South
1. Atlanta Falcons 11-5
2. Tampa Bay Bucaneers 10-6
3. New Orleans Saints 8-8: I was so close to betting on the Under win total for the Saints because of their chaotic offseason, but it's hard to see a Drew Brees led team not win at least 8 games. With an interim interim coaching situation for 6 weeks though, things could fall apart quickly. The offense should still be explosive even without suspended head coach Sean Payton, but the team will lack his key in game adjustments. The offensive line is a strong but sometimes inconsistent unit protecting Brees, but he is so good at avoiding the rush and getting his passes off to his receivers that it doesn't always matter. He has a wide array of receivers headlined by Jimmy Graham, his athletic freak of a tight end who is still learning the game yet has become the #1 option. Marques Colston has been a stud since his rookie year, and Lance Moore, Devery Henderson, rookie Nick Toon, and runningback Darren Sproles are all quality receiving options as well. The running game should be a stronger option with Mark Ingram, Pierre Thomas, and Sproles, but it becomes an afterthought due to early struggles far too often.
The defense is in shambles with the looming suspensions of the bounty scandal under former coordinator Gregg Williams, but new coordinator Steve Spagnuolo was a good hire. Linebacker Curtis Lofton was also a good pickup from division rival Falcons, but the rest of the unit is lacking. Last year's first round pick Cameron Jordan is going to be a beast at defensive end who should be the hope of this defense. I like free safety Malcolm Jenkins, but this secondary has holes in it that will be exploited without a strong pass rush.
No need to fear, Superman is here.
4. Carolina Panthers 7-9: Cam Newton surpassed everyone's expectations, including my own, with one of the best rookie quarterback seasons ever, and I am excited to see what he does for an encore. The passing game slowed down as the season went one with star receiver Steve Smith getting constant double teams, but this offense should be explosive all year. Brandon LaFell is on almost all of my fantasy teams this year as one of my biggest sleepers now that he has the #2 receiver option locked down, and I think tight end Greg Olsen will be heavily involved in the passing game as well. The offensive line is a strong unit that can open up running lanes for their stable of rushers including DeAngelo Williams, Jonathan Stewart, free agent fullback Mike Tolbert, and Newton himself, who might just be the best goal line option in the league.
The defense took a big step towards becoming a respectable unit this offseason but still has questions to be answered. Charles Johnson and Greg Hardy are a good duo of defensive ends, but defensive tackle is a point of weakness against the run. This is a great group of linebackers, however, with Jon Beason, James Anderson, and #9 overall pick Luke Kuechly. The secondary is the biggest question mark, with rookie 5th round cornerback Josh Norman and free agent safety Haruki Nakamura earning starting spots in camp.
NFC West
1.
San Francisco 49ers 12-4
2. Seattle Seahawks 8-8
: Everyone's hopping on the bandwagon of this upstart team with a surprise rookie quarterback, but I'm not buying it. I remember Russell Wilson from his N.C. State days and his Wisconsin days, and I was surprised that the undersized-but-inspirational-leader was a third round pick, yet alone named the starter over big free agent acquisition Matt Flynn. His mobility will be an asset behind a shaky offensive line, and he will be throwing to an interesting, but underwhelming receiving corps that includes Sidney Rice, Braylon Edwards, Golden Tate, Doug Baldwin, and tight end Zach Miller. I like each of them to some degree, but besides Baldwin, the other four names haven't been relevant in about three years. Of course, Wilson's best play will be handing the ball off to Marshawn Lynch and watching him do magic with the ball, but he is dealing with back spasms. Backup runningback Robert Turbin is a rookie 4th round pick out of Utah State who has promise but is inexperienced, obviously.
The defense should keep them in games, but I think the unit as a whole is a bit overrated. The defensive line is stout against the run, anchored by Brandon Mebane and Red Bryant, but Chris Clemons is their only reliable pass rusher. Rookie Bruce Irvin is supposed to be their other sack specialist, but he was a huge reach in the first round even after trading down to #15 overall. (Can you tell I didn't like their draft?) They have rangy corners with Richard Sherman and Brandon Browner starting, pushing veteran Marcus Trufant to the slot role, and their secondary as a whole is optimistic, led by star free safety Earl Thomas. I still think they have a lot to prove.
Maybe Wilson will prove me and other doubters wrong once again.
3. St. Louis Rams 7-9: New head coach Jeff Fisher can lead this team to a nice bounce back year if his guys can stay healthy. That all relies on this weak offensive line keeping Sam Bradford upright at quarterback. He doesn't have many weapons to throw too, but getting Danny Amendola back at least provides a steady option over the middle. Steve Smith was a decent free agent signing, but he and rookie second round pick Brian Quick come with a lot of question marks about their ability to make an impact right away. At least Steven Jackson is still a workhorse runningback, and rookie backup Isaiah Pead was an interesting selection with their third second round pick.
Their other second round pick, Janoris Jenkins, was an excellent addition at cornerback along with free agent Courtland Finnegan, who is overrated as a shutdown man but still an upgrade. The defensive line was strengthened with first round pick Michael Brockers, who will eventually be a difference maker inside with stud defensive ends Chris Long and Robert Quinn. Middle linebacker James Laurrinaitus leads this unit overall, but they still have to improve against the run.
4. Arizona Cardinals 5-11: I hated the Kevin Kolb trade and subsequent contract extension from the moment it happened, and he proved to be a disappointment with rookie John Skelton looking like the better quarterback last year. Of course, Skelton isn't very good himself, but he does have a strong, albeit erratic arm and knows to feed star receiver Larry Fitzgerald a ton of targets down the field. The main problem is that this offensive line is horrendous and often doesn't provide enough protection for deep throws. This poor blocking also applies to the running game, although Beanie Wells is constantly hurt anyway and last year's second round pick Ryan Williams missed all of last year with a ruptured patella tendon. I like Williams a lot, but I would feel a whole lot better about him if he had any running room.
The defensive line is a whole other story as this front seven as a whole is a strong unit. Calais Campbell in particular is a beast at defensive end in this 3-4 alignment. There is some concern about whether or not and outside linebackers O'Brien Schofield and Sam Acho can generate a consistent pass rush, however. Last year's #5 overall pick Patrick Peterson proved to be a dynamic playmaker like he was in college, and he improved at corner as the season went on. The rest of the secondary can be inconsistent, with cornerback depth looming as probably the biggest issue.