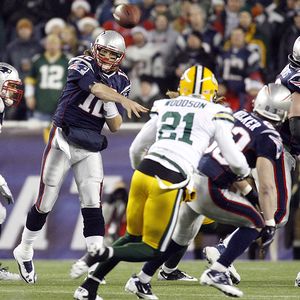 NFC West: Niners(4), Rams, Cardinals, Seahawks
NFC North: Packers(1), Lions, Bears, Vikings
NFC South: Saints(2), Falcons(5), Buccaneers(6), Panthers
NFC East: Eagles(3), Cowboys, Redskins Giants
Wildcard round: 3-Eagles over 6-Bucs, 5-Falcons over 4-Niners
2nd round: 1-Packers over 5-Falcons, 3-Eagles over 2-Saints
NFC Championship: 1-Packers over 3-Eagles
AFC West: Chargers(3), Chiefs, Raiders, Broncos
AFC North: Ravens(2), Steelers(5), Browns, Bengals
AFC South: Texans(4), Titans, Colts, Jaguars
AFC East: Patriots(1), Jets(6), Bills, Dolphins
Wildcard round: 3-Chargers over 6-Jets, 4-Texans over 5-Steelers
2nd round: 1-Patriots over 4-Texans, 2-Ravens over 3-Chargers
AFC Championship: 1-Patriots over 2-Ravens
Super Bowl: Patriots over Packers
I called for a Patriots-Packers Super Bowl
last year
, with a Brady/Rodgers MVP combo, so why not go with that again. The Packers were more dominant than their 10-6 record indicated last year, having never trailed the entire season by more than 7 points despite being decimated by injuries. After winning the championship, they are now reloaded with a now healthy roster that should be the best in the NFC. However, I think the Patriots take care of business this year after a frustrating playoff upset to the rival Jets, despite their questionable risks during the offseason. This time the script will be flipped as Rodgers rides the momentum to his first MVP, but Tom Terrific claims his 3
rd
Super Bowl MVP by pressing all the right buttons in the post season. (Interestingly, the last time the regular season MVP went on to win the Super Bowl was Kurt Warner in 1999.)
I was very close to picking the Packers to repeat against a different AFC team because they are absolutely loaded. On the other hand, the Saints and Eagles also look excellent on paper, or the Patriots' weaknesses could be exposed by a team like the Ravens, Steelers, or Chargers. None of these scenarios would surprise me, but I'm going with the most likely choice in my mind.
Defensive Player of the Year: Patrick Willis, San Francisco LB- Another repeat pick from last year, Willis turned in his 4th All-Pro season in as many years, and I think he takes his excellence to the next level. New Defensive Coordinator Vic Fangio plans on blitzing Willis more often after the team captain had a career high 6 sacks to go with his 128 tackles. Anchoring a newly dominant defense, I say Willis adds some new hardware amongst his accolades.
Offensive Rookie of the Year: Julio Jones, Atlanta WR- Rookies are going to have a harder time than usual this season due to the lockout, so receivers' timing with their quarterbacks will be shaky. Thus, I don't think Jones is going to great right away, but he is going to produce enough as the #2 option for Atlanta, drawing enough attention away from star receiver Roddy White and providing some highlight reel catches to gain the vote. Not many of the other top rookies are in much better situations.
Defensive Rookie of the Year: J.J. Watt, Houston DE- This draft was stacked with defensive talent, but I'm picking Watt due to the overall impact he will have in improving the Texans' horrible defense from a year ago. With new coordinator Wade Phillips' conversion of the unit to a 3-4, Watt will help anchor the front line by drawing double-teams with his relentless pass rush. He has a motor that never stops, reminiscent of the 49ers' Justin Smith. I could definitely see Arizona's Patrick Peterson (the best overall player in this draft, in my opinion) or Baltimore's Jimmy Smith (starting on an elite blitzing defense that may leave him alone on an island) winning this as well.