Well, now it's official: both Manu Ginobli of the Spurs and Zach Randolph of the Grizzlies are
out 6-8 weeks
with a broken hand and torn MCL, respectively. These losses severely hurt two of the teams I picked to be in the
top six in the West
as both players are arguably their teams' best scorers, and they will be out for a significant chunk of this compressed season. This could open the door for lower teams in the West to rise above them: the new, up-tempo Blazers could now land a top seed, or a highly competitive Rockets squad could sneak into the playoffs. For the Spurs, in particular, it hurts them with their upcoming "rodeo trip" and the sheer amount of games they have to play in January. They will likely have to lean on their younger players such as James Anderson, Kawhi Leonard, and Danny Green to play more minutes and give Richard Jefferson a larger role in the offense. If Gary Neal is fully recovered from a December appendectomy, then he will obviously provide a much needed boost, as well.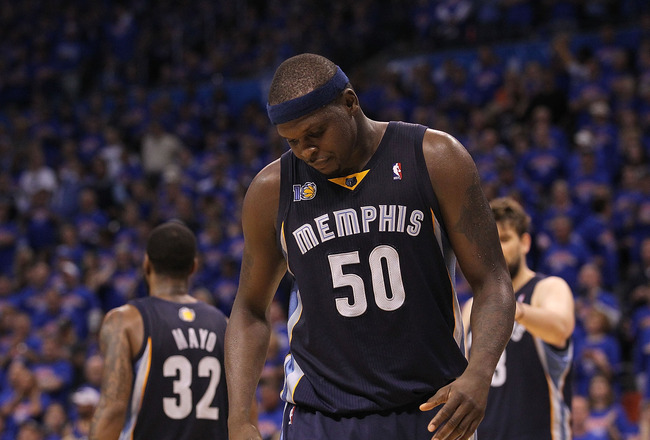 Replacing Z-Bo is a tall task.
For the Grizzlies, they have already begun to address their already lacking front court depth with
their trade today
. With Darrell Arthur out for the year after a preseason Achilles injury and the team still searching for a viable replacement beyond Dante Cunningham, Memphis dealt second year swingman Xavier Henry and a 2012 second round pick for fourth year big man Marreese Speights. Now, the Grizzlies have another player who can be a mediocre defender at either front court position, rebound at an acceptable rate, and consistently knock down the mid-range jumper. He is definitely not shy about taking that jumper, and his scoring is the real draw here as he can provide some of the points lost from the Z-Bo injury.
Another move could be on the way as this trade is hardly a game changer. If I were the Grizzlies, I would look into an O.J. Mayo for Michael Beasley swap. Financially, both players are restricted free agents this summer since they were selected with the third and second picks in the '08 draft. (Incidentally, Mayo would be going to the team that technically drafted him before a draft day trade for Kevin Love, and Memphis would be without any of their last FIVE first round draftees. Ouch). Minnesota would be opening up more playing time at forward for Derrick Williams and Wes Johnson and get an upgrade at shooting guard with Mayo. Beasley would be able to start at power forward while Randolph is still out, and he could be a backup at both the 3 and 4 afterwards. In a way, he'd be replicating Cunningham, but the more optimistic hope is that he could fill the role of the departed Shane Battier. They're completely different players, for many reasons, but perhaps Beasley could find his niche in this setting. Trading Mayo will hurt their back court depth, however, so you better be sure you are getting a strong talent in return. Another trade I've liked for a LONG time that would be going in the other direction is Mayo to the Bulls for a package based around first round picks and Omer Asik, one of my favorite sleeper big men for his size, mobility, and overall defensive acumen.
Lastly, I really like today's trade for New Orleans. They're giving up a 2013 second round pick for a guy who was a top recruit coming out of high school, had a nice season at Kansas, and was a 2010 lottery pick. He showed flashes in limited opportunities for Memphis as a rookie before being benched for the playoff run. Yes, he's missed the start of this season with torn ankle ligaments, and the Hornets hopefully have Eric Gordon and Al-Farouq Aminu at shooting guard and small forward for the foreseeable future. But you're essentially getting a lottery ticket on a serious talent on his rookie contract for the mere price of a future second round pick, and when you're rebuilding, you just try to acquire as many assets as possible. Dell Demps is a good GM who understands this and pulled the trigger. I'm not saying Henry is going to be an All-Star or even a very good starter, but there is a chance he could be, and there're very little risk involved. I guess Philadelphia felt they were filled at the wing positions and decided to just cash in on two future second rounders and a small trade exception for a player they probably were not going to play much this year or beyond.